Leaders and policymakers gathered in Austin Dec. 10 for the Texas Association of Business' conference "Reforming Higher Education: A Prerequisite for Prosperity." UT System Chancellor Francisco Cigarroa, M.D., and other higher education leaders discussed game-changing strategies to increase student success and produce an educated workforce.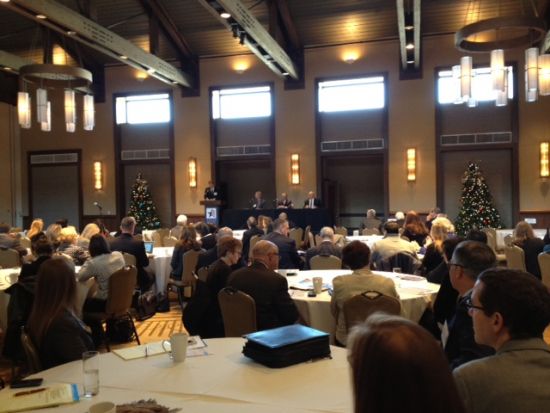 Stan Jones, president of Complete College America, gave opening remarks, noting that more than half of the individuals who enroll in college never finish their degree. He identified several strategies to address completion that include remediation reform, time to completion and directed degree programs.
"Remediation should be treated as a co-requisite, not a pre-requisite," Jones said, calling it "largely unsuccessful" due to the 20 percent of students in remedial classes who don't finish. He also discussed the concept of "15 to finish," stating that 12 to 15 credit hours a semester should be the norm because the longer a student is in school, the less likely they are to graduate.
On the topic of class selection, Jones drew on the work of social psychologists who have shown that the more options an individual is offered, the less likely they are to make a decision and the more likely they are to make a poor choice. "Programs that are planned out course by course have very high graduation rates," he said, acknowledging that choice is important, but emphasizing that it should be deliberate.
Jones challenged attendees to "implement and scale these game-changing strategies, saying "You've got the leadership in Texas to do it."
Following his remarks, Texas House Committee on Higher Education Chairman Dan Branch moderated the panel discussion "Improving Graduation Rates," featuring participants Chancellor Cigarroa, Senate Committee on Higher Education Chairman Kel Seliger and Texas Higher Education Coordination Board Vice Chairman Bobby Jenkins.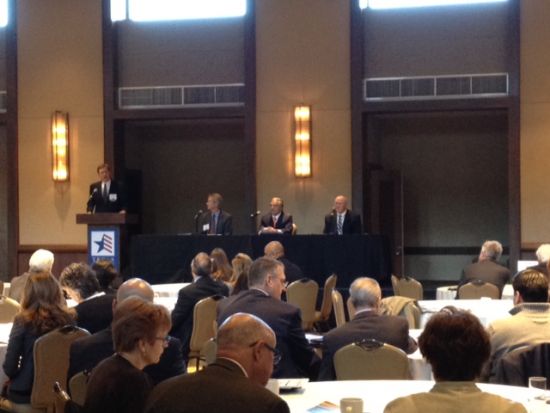 "The UT System is approaching the issue of completion holistically," Cigarroa said, pointing out that if you look at student debt and student loans and then look at the default rates, 80 percent of students default because they don't graduate. "I established the Framework for Advancing Excellence, and one of the very first goals of the action plan is student success," he continued. "We're looking at things like admission standards, advisor status and best pathways to make sure credits transfer toward a major, but there is no way to get there unless you've got metrics involved."
The UT System implemented an online Productivity Dashboard in 2011 to analyze data and see how UT System institutions are performing on a variety of measures, such as the number of degrees conferred, production of space utilization, as well as costs associated with obtaining a college degree. It provides current data, trends over time and comparative benchmarking across a variety of metrics in support of better decision- and policy-making. The data is public and allows students, parents, stakeholders and others to assess the effectiveness and productivity at UT institutions.
"Being the chancellor of the UT System with nine very different universities means one size definitely doesn't fit all," Cigarroa said. "It's important to be careful when talking about the definition of success when you are talking about graduation rates and time to completion. Maybe a student took seven years to complete a degree because they had to work. So the Productivity Dashboard will have four- to six-year graduation rates and the number of semester hours it took to graduate."
On the implications of the education reform bill HB5, Cigarroa said he is all about making certain K-12 schools prepare students for success to pursue a four-year degree. "Our standards for enrollment will probably increase, not diminish over time," he said. "It's still too early, but over time we need to ask 'How did this policy change impact not only college success but career success?' I don't think our job stops when we graduate students; we've got to follow degree success with metrics."
Learn more about what the UT System is doing to increase student success in higher education by visiting the Chancellor's Framework for Advancing Excellence throughout the UT System and the UT System Productivity Dashboard.