Friday, Nov. 8, marked the inaugural celebration of The University of Texas System Recognition Day throughout the state of Texas. At the recommendation of the Employee Advisory Council, the UT System Board of Regents established the second Friday in November as a day to recognize its 15 institutions, 90,000 employees and over 216,000 students.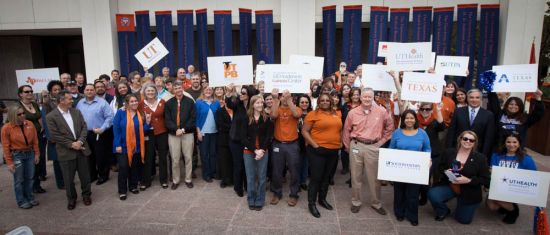 Chancellor Francisco Cigarroa with UT System staff during UT System Recognition Day.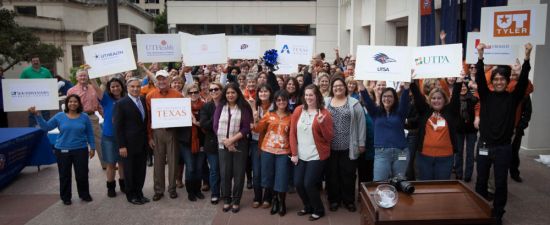 The University of Texas System is one of the nation's largest systems of higher education, with nine academic institutions and six health institutions that educate more than 216,000 students and employ 90,000 faculty and staff.
For more than 130 years, The University of Texas System has been committed to improving the lives of Texans and people all over the world through education, research and health care.
Over the past two years, The University of Texas System's ground-breaking strategic plan, called theFramework for Advancing Excellence, has cemented UT as a national leader in higher education. As a result of the Framework, The University of Texas System has implemented transformational initiatives to:
Raise graduation rates
Reduce student debt
Improve health care
Increase data transparency and access
Recruit and retain outstanding faculty and staff
Integrate high-quality, highly-interactive online learning
Enhance productivity and efficiency
Support technology commercialization and emerging research institutions
Expand educational opportunities in South Texas