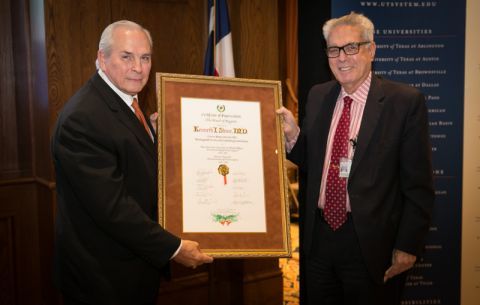 L to R: Chairman Gene Powell with Dr. Kenneth Shine.
The University of Texas System Board of Regents presented a Certificate of Appreciation to UT System Executive Vice Chancellor for Health Affairs Kenneth I. Shine, M.D., Thursday morning and announced a new name for UT System's health science education academy: "The University of Texas System Kenneth I. Shine, M.D., Academy of Health Science Education."
Dr. Shine, a formidable champion of many UT-led enhancements in health care education and research, will retire from his post this fall. During his tenure, he has implemented innovative initiatives that will forever leave their mark on the UT System.
Under Shine's leadership, the Office of Health Affairs has completed six presidential searches, implemented a strategy on the Future of Public Health, launched the nationally recognized Clinical Safety and Effectiveness Program, created the Transformation in Medical Education (TIME) program, established the first Systemwide Academy of Health Professions Educators in the country and much more. Shine also led the System as interim chancellor from April 2008, following Chancellor Mark Yudof's departure, until Francisco G. Cigarroa, M.D., was named chancellor in January 2009.
Shine said he was touched and honored by the Board's tribute. "I have a passion for education and the Academy is particularly important. It is how we promote and recognize our outstanding educators," he said.
He also thanked the Board for taking risks and providing funding for important programs to advance medical education initiatives over the years, and he praised Chancellor Cigarroa. "When I came onboard 10 years ago, we had a young transplant surgeon who had been appointed president of The University of Texas Health Science Center at San Antonio. I had the privilege to see the growth of that president, and it's been thrilling for me to work with him as our Chancellor."
Cigarroa responded, saying his comments about Shine would be from the heart. "I've been privileged to report to Ken Shine when I was president and to now have him as part of my team. I learn immensely from him every day because of his ability to give wise counsel.
"Shine has recruited five of our six health institution presidents, and these presidents are second to none in the nation," he added. "The pathway to establish the Dell School of Medicine and the new medical school in South Texas wouldn't have happened without Dr. Shine.
"Dearest friend, greatest teacher, wise counselor—I salute you," Cigarroa said.
Regent Robert L. Stillwell added: "We all use and casually throw around 'the best of the best.' Ken Shine is the definition of 'the best of the best.'"
Shine will be succeeded by Raymond S. Greenberg, M.D., president of the Medical University of South Carolina, and will remain a part of the UT System to assist with special projects and health initiatives indefinitely.