Chancellor Bill McRaven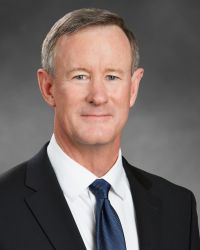 The Chancellor [1] is the chief executive officer of the UT System and reports to the Board of Regents. He has direct line responsibility for all aspects of the UT System's operations.
Website
[1]
Biography
[2]
Photo
[3]
Board of Regents

The Board of Regents [4] is the governing body for The University of Texas System. It is composed of nine Regents and one Student Regent who are appointed by the Governor and confirmed by the Senate.
Executive Officers
Deputy Chancellor

Website [17]

Photo [18]

Executive Vice Chancellor for Health Affairs

Website [20]

Photo [21]

Executive Vice Chancellor for Business Affairs

Website [23]

Photo [24]

Executive Vice Chancellor for Academic Affairs

Website [26]

Photo [27]

Vice Chancellor for Strategic Initiatives

Website [29]

Photo [30]

Vice Chancellor for Research and Innovation

Website [32]

Photo [33]

Vice Chancellor and Chief Governmental Relations Officer

Website [35]

Photo [36]

Vice Chancellor for External Relations

Website [38]

Photo [39]

Vice Chancellor and General Counsel

Website [41]

Photo [42]

Vice Chancellor for Federal Relations

Website [44]

Photo [45]

Vice Chancellor for Academic and Health Affairs

Website [20]

Photo [47]